Vinyl Flooring For Kitchens
With the recent vast improvement in Vinyl Flooring technology, Vinyl Flooring for Kitchens is now considered the ideal choice for Singapore's home owners. Our range of Vinyl Flooring for Kitchens is waterproof, hard wearing, slip resistant and easy to clean. More importantly, they are affordably priced.
Why Choose Vinyl Flooring For Your Kitchen?
Better Hygiene With Vinyl Flooring – Ease Of Cleaning And Maintenance
Kitchen is an environment where food is prepared daily. With recent popular trend of kitchen being designed to open into the dining area, it is even more imperative for the kitchen to be kept clean, free of germs and pest at all times. Hence, vinyl flooring is perfect for kitchen as it is very easy to clean and maintain. Not only that, you'll not find food or bacteria trapped in-between the cracks or grout lines which is a common problem with tile floors.

Vinyl Flooring For Kitchens – Extreme Durability And Waterproof
Durability is of paramount importance for kitchen floor as accidental spills and dropping of objects onto the floor are common occurrence during food preparation. Vinyl flooring is not only easy to clean, it's also extremely durable. It is resistant to impact, abrasion, water damage and also copes really well with high foot traffic. Vinyl flooring will last for many decades, saving you the headache and cost of having to replace or repair them.
Slip Resistance
Our Vinyl Flooring comes with extra deep embossed layer that will provide extra foot grip. However, sensible measures such as cleaning up spills, especially oily substances, is crucial to avoid nasty slips and falls.
Enjoy Luxurious Looking Wood Designs For Your Kitchen Floor
If you have always wanted to have a beautiful wood flooring for your kitchen but was not able to do so due to the impracticality and high cost of real wood, now you can with our Vinyl Wood Flooring. Our Vinyl Flooring for Kitchens is available in a wide range of the most popular classic wood designs at extremely affordable prices. Whether it's rustic oak design, dark rich walnut or the clean modern contemporary pine look, we'll have something to match the requirements that you have in mind. Check out our gorgeous range of vinyl wood designs by clicking below.
Beautiful Wood Designs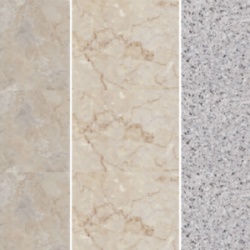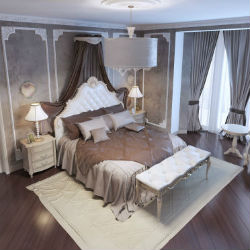 Amazing Features Of Vinyl Flooring
Extreme durability
Available in various beautiful wood designs
Waterproof
Sound insulating (better soundproof vinyl flooring range is available)
Comfort to walk on
Slip Resistant with our 0.7mm deep embossed surface
Affordable and Cost-effective
Easy and fast to install
Easy to clean and maintain
We are reliable and trusted specialist of vinyl flooring in Singapore. All our vinyl floorings are directly imported from manufacturers with strict quality standards to ensure high quality and competitive pricing. Call us today to find out more about our range of vinyl flooring, and how they could transform and benefit your home or businesses.