Vinyl Flooring | Bedroom
Best Flooring Solution – Wake Up with a Beautiful and Comfortable Floor
Vinyl Flooring For Bedroom
Given Singapore's climate, installing Vinyl flooring for your bedroom is a fantastic choice. Vinyl Flooring is able to withstand high humidity and temperature variation due to the use of air-conditioner.
Bedroom is one of the most important rooms in your home where you rest and rejuvenate. For most people, bedroom is probably also the room that you spend most time in when at home. Hence, having a clean, comfortable and peaceful bedroom is very crucial.

Vinyl Flooring For Bedroom – The Must Have Traits For Bedroom Flooring:
Extreme Underfoot Comfort
There's nothing worse than starting the day by stepping onto a cold and uncomfortable floor when getting out of bed. Vinyl flooring is able to insulate from variation in temperature due to the air-conditioning, hence it is comfortable to walk on in a wide range of temperature. As vinyl is not as stiff as ceramic and wood, it provides a softer underfoot feel when walking barefoot.
Sound Insulation
The fantastic sound insulating properties of our vinyl flooring makes it ideal for upstairs bedrooms or apartments. Our Bedroom Vinyl Flooring will help to absorb some of the sound of footfalls, providing your home or neighbours with more peace and tranquillity. If you desire a higher level of sound insulation for your flooring, check out our Soundproof Vinyl Flooring range.
Easy To Clean And Maintain
It is especially important to keep your bedroom clean as this is the place where you spend many hours sleeping or resting. Our Vinyl Flooring for Bedroom is a breeze to clean, and unlike carpet flooring, your bedroom floor will require only a quick once over with a damp mop. It also does not require special maintenance unlike wood flooring.
Fast And Easy To Install
Not only is our vinyl flooring economical when compared to some other types of flooring, they're also really simple to install using the Click and Lock fitting method. Hence, your bedroom floor can be transformed in a matter of hours with minimal downtime.
Our Vinyl Flooring For Bedroom Is Available In Various Beautiful Wood Designs
Bedroom is a very personal space where we should feel most comfortable in. They're the first thing we see in a morning, and the last thing we see at night. Thus, it is important to invest more effort in interior design of our bedrooms. That's where our Vinyl Flooring, available in various beautiful classic wood designs, will provide the perfect solution in helping you personalize such an intimate space of your home. Click below to check out our range of beautiful wood designs.
Beautiful Wood Designs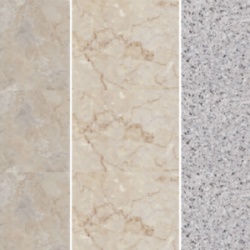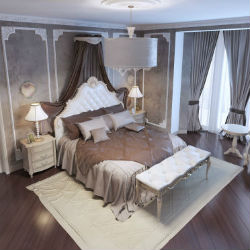 Amazing Features Of Vinyl Flooring
Extreme durability
Available in various beautiful wood designs
Waterproof
Sound insulating (better soundproof vinyl flooring range is available)
Comfort to walk on
Slip Resistant with our 0.7mm deep embossed surface
Affordable and Cost-effective
Easy and fast to install
Easy to clean and maintain
We are reliable and trusted specialist of vinyl flooring in Singapore. All our vinyl floorings are directly imported from manufacturers with strict quality standards to ensure high quality and competitive pricing. Call us today to find out more about our range of vinyl flooring, and how they could transform and benefit your home or businesses.