Vinyl Flooring Singapore
Best Quality Vinyl Tiles, Planks and Sheets for Commercial and Residential Use
Vinyl Flooring Singapore is where you will find the best quality, vinyl tiles, planks and sheets at affordable prices.
Vinyl flooring is one of the most durable flooring and a rising star in the Singapore flooring market.
It is manufactured using a type of plastic called polyvinyl chloride (PVC).
PVC is an extremely versatile material which is used in the manufacturing process of products such as insulation for electric cables, handbags, clothing and furniture.
PVC is used for a wide range of products because of its reputation as a hard-wearing and durable material within the plastics industry.
It is this durability that makes vinyl flooring resistant to damages due to impact or abrasion.
Our Vinyl Flooring Prices (supply only*):
5mm click system 0.5 wear layer / new material : $2.60 psf Excluding GST*
5.2mm super click system : $3.10 psf excluding GST*
*Kindly contact us for a quotation if you require our installation services.
*Payment is only required upon delivery or self-collection. 
Available in Tile, Sheet and Plank Forms
Vinyl flooring is a very versatile and popular choice for both residential homes as well as office spaces with a variety of solutions to meet a variety of requirements and tastes.
Vinyl flooring, which comes in a variety of styles, allows for design and installation versatility.
Vinyl planks, which look like hardwood flooring and come in a variety of lengths and widths, allow for imaginative patterns and layouts.
Vinyl tiles, on the other hand, have the appearance of ceramic or stone tiles but are softer and more pleasant underfoot.
Vinyl sheet flooring comes in big rolls and provides a smooth, waterproof, and easy-to-maintain surface.
Click the images to explore pictures of actual projects.
Our Vinyl Flooring Prices (supply only*):
5mm click system 0.5 wear layer / new material : $2.60 psf Excluding GST*
5.2mm super click system : $3.10 psf excluding GST*
*Kindly contact us for a quotation if you require our installation services. 
*Payment is only required upon delivery or self-collection. 
Vinyl Flooring Is Not The Same As Linoleum Flooring
Both vinyl flooring and linoleum flooring are categorized as resilient flooring.
Although vinyl flooring is commonly used interchangeably with linoleum flooring, they are technically not the same in terms of material composition.
Vinyl flooring is composed of PVC whereas linoleum is made up of all natural material such as linseed oil, wood, cork and resins.
The composition of wood and cork in linoleum render it vulnerable to water damage.
Hence it requires an annual application of sealant for maintenance.
In contrast, vinyl flooring is waterproof and do not require any maintenance other than the usual cleaning.
With advancement in vinyl flooring technology, it is now eco-friendly and more hardy.
This new improved version has been re-marketed as Luxury Vinyl Flooring which encompassed Luxury Vinyl Tiles and Luxury Vinyl Planks.
Coupled with its modern elegant design, it has now surpassed linoleum flooring in terms of popularity.
Vinyl flooring is available in tiles, sheets and planks forms to suit your various flooring requirements.
Learn which forms is most appropriate for your needs in our Type of Vinyl Flooring page.
Beautiful Vinyl Flooring Designs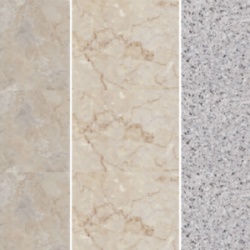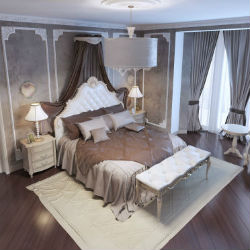 With new innovation in print technology, Vinyl Wood Flooring is able to replicate the look and feel of wood down to the intricate grains and grooves of real wood that it will be hard to tell the difference from real wood.
If you prefer a traditional looking flooring, our Oak Vinyl Flooring provides a beautiful rustic and cozy look that will fit right in with most style of décor and furnishings for your homes or businesses.
It's extremely durable, easier to clean and maintain when compared with real oak wooden flooring.
Fancy something which is a little lighter and brighter in tone and texture? Check out our Pine Vinyl Flooring. Its neutral colour is perfect for both commercial and domestic environments, and it will be compatible with any existing furniture and décor that you have.
If you're looking for something darker and richer in colour and design, why not take a look at our Walnut Vinyl Flooring?
Its exuberant dark tones and textures will add a touch of class and elegance to any interior spaces.
Suitable for Residential Homes and Commercial Spaces
Residential Grade Vinyl Flooring is suitable for places with moderate foot traffic and can last for decades. However, in high traffic commercial environments such as shopping malls or factories, Durable Vinyl Flooring of commercial grade would be more suitable.
This type of flooring copes extremely well in harsher conditions, and will last many years with low maintenance.
With its waterproof, sound insulating properties (Soundproof Vinyl Flooring range is also available) and cost effectiveness, vinyl flooring has emerged as the most popular flooring solution for both businesses and home owners in Singapore.
Fast and Easy Installation
Businesses want to resume operation without undue delays and home owners want to move into their residences as soon as possible. Hence, floor installation which is one of the major area of concern, should ideally be completed fast and without much hassle.
This is made possible with the recent innovations in vinyl floor installation system. The Click and Lock Vinyl Flooring has tremendously reduced the duration of the installation process.
Without the use of glue or any adhesive, click and lock floor can be installed with speed and ease. Without requiring time for the glue to set (since no glue is used), the floor can be walked on right after installation.
Easy to Clean and Low Maintenance
No business or home owner would willing spend lots of time and money on floor maintenance. Hence, vinyl flooring, which is easy to clean and maintain, provides tremendous cost saving in the long run.
Not only that, it can be a good alternative to wood flooring as it will not cause termite infestation problems.
Amazing Features Of Vinyl Flooring
Extreme durability
Available in various beautiful wood designs
Waterproof
Sound insulating (better soundproof vinyl flooring range is available)
Comfort to walk on
Slip Resistant with our 0.7mm deep embossed surface
Affordable and Cost-effective
Easy and fast to install
Easy to clean and maintain
We are reliable and trusted specialist of vinyl flooring in Singapore. All our vinyl floorings are directly imported from manufacturers with strict quality standards to ensure high quality and competitive pricing. Call us today to find out more about our range of vinyl flooring, and how they could transform and benefit your home or businesses.