Commercial Vinyl Flooring
Commercial Vinyl Flooring has been gaining popularity in Singapore. There is a surge of demand in Vinyl Flooring in various industrial applications due to the high durability of industrial grade vinyl flooring that is affordable, durable, with good slip resistant, easy to clean and maintain.

Advantages Of Installing Commercial Vinyl Flooring For Your Businesses:
Great Functionalities
Commercial Vinyl Flooring's amazing features such as waterproof, slip resistance, extreme durability and resilience enables it to step up to the challenge of the handling the high traffic and busy environment in industry such as retail shops, malls and offices. On top of that, you can now enjoy affordable and good sound absorption flooring with our new range of Soundproof Vinyl Flooring.
Ease Of Maintenance And Cleaning
In many commercial environments such as restaurants, cafes, bars and even schools, hygiene is of paramount importance. With vinyl flooring, cleaning up of spills and mess is a breeze. As our vinyl flooring is 100% waterproof, it can withstand high water exposure due to frequent cleaning.
Cost-Efficient
With minimal maintenance, Commercial Vinyl Flooring will last for many years without the need for repair or replacement. In the long run, businesses not just save on the flooring material and installation cost, but most importantly on the recurring cost of cleaning and maintenance.
Environmental Friendly
As more businesses are striving to achieve International ISO Standards in their business practice, there has been an increased emphasis on incorporating the best green practices to reduce any detrimental impact on the environment. Our Vinyl Flooring is manufactured using material that is safe and eco-friendly. By opting for our Vinyl Wood Flooring, which is an excellent replication of real wood floor, businesses can do their part for the environment by reducing the use of wood.
Beautiful Designs
Gone were the days of ugly and plastic looking vinyl flooring. The latest cutting-edge print technology creates ultra-realistic replica of wood onto vinyl planks. These wood look vinyl floor planks make having a "wood" floor possible in places where real wood floor is not practical due to risk of water damage and scuffs from high foot traffic. Check out our beautiful range of wood designs vinyl flooring by clicking below.
Specification Of Commercial Vinyl Flooring
Overall Thickness: 5 to 7mm
Wear Layer Thickness: 0.5 to 0.7mm
Beautiful Wood Designs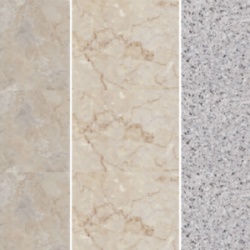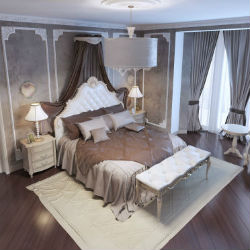 Amazing Features Of Vinyl Flooring
Extreme durability
Available in various beautiful wood designs
Waterproof
Sound insulating (better soundproof vinyl flooring range is available)
Comfort to walk on
Slip Resistant with our 0.7mm deep embossed surface
Affordable and Cost-effective
Easy and fast to install
Easy to clean and maintain
We are reliable and trusted specialist of vinyl flooring in Singapore. All our vinyl floorings are directly imported from manufacturers with strict quality standards to ensure high quality and competitive pricing. Call us today to find out more about our range of vinyl flooring, and how they could transform and benefit your home or businesses.